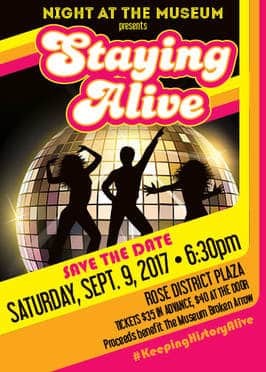 07 Aug

Night at the Museum Sept 9th
Join us for a Night at the Museum!
The Museum Broken Arrow is proud to present our fifth annual fundraiser, Night at the Museum: Staying Alive!
The event will be held on Saturday, Sept. 9, beginning at 6:30 p.m. in Rose District Plaza. This year's fundraiser will feature a DJ, photo booth, live auction, wine toss and a gift card pull.
​
All proceeds from the event will go toward the operational expenses of the Museum including preservation of artifacts and photographs, the development of exhibits and to conduct ongoing research into our town and its history.
The Museum Broken Arrow shoulders the responsibility of all operating expenses on our own. We depend on the support of individuals and businesses alike to fulfill our mission in the community. We are committed to preserving the history and heritage of Broken Arrow, but without financial support we could not operate. We hope you will join us for a Night at the Museum in support of our mission!
---