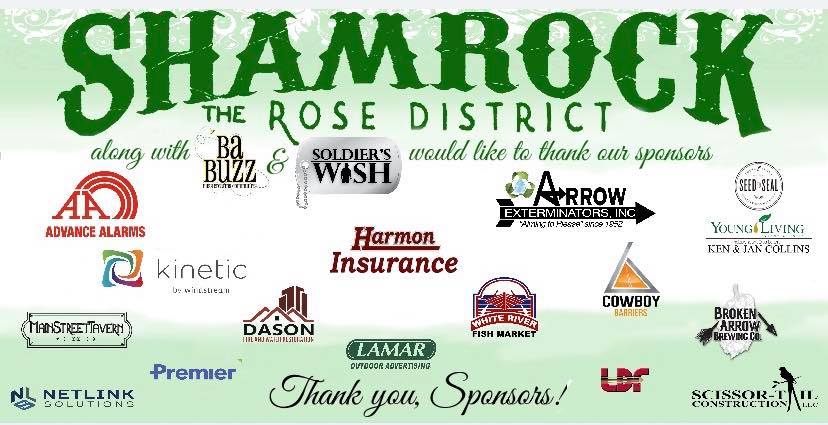 14 Aug

ShamRock the Rose 2022 – March 12th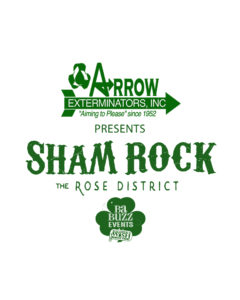 Welcome to Broken Arrow's Official St. Patrick's Day Block Party…. "ShamROCK the Rose"!
Last year's PRESENTING SPONSOR was Arrow Exterminator!
BELOW IS ALL LAST YEARS INFO!  
Craft Beer Garden & VIP Experience tickets!
VENDOR APPLICATION:
Join us March 12th from 5pm-10pm in the heart of Broken Arrow's Art & Entertainment hotspot… the Rose District!
🍺☘️🇺🇸DO NOT WANT TO MISS THIS Soldiers Wish Benefit Event!!! 🍺☘️🇺🇸
Find out all you need to know about BA's longest standing, FREE & open to the public, Family Friendly 👫, St Pat's Day celebration on the event fb page:
https://facebook.com/events/s/shamrock-the-rose-district/364842394453153/?ti=icl
and website: https://thebabuzz.com/shamrock-the-rose-2022/!!!
March 12, 2022 will be here before we know it!!! Billboards , magazine stories, radio ads, tv interviews & a gazillion fb posts will be coming you're way!!! There's NO WAY someone shouldn't hear about this event! Especially if everyone helps SHARE it! 🙏🏻👍🏼
This event is in its 8th year!!! 🙌
☘️It is 3 blocks in length
☘️Is FREE and open to the public
☘️has 12+ variety of food trucks
☘️almost a 100 street vendors varying from: local businesses, churches, crafters, retail boutiques to military organizations!
☘️It also has a fabulous Kids Zone brought to you by the @Broken Arrow Football booster club! The Kid Zone will have everything your child will want including a $10 all you can jump wristband, tons of games, a dunk tank and more. All proceeds go to the Booster Club! 🏈🐯
☘️Has live music the entire event – bring your lawn chairs and enjoy!
☘️Ticketed Craft Beer Garden
☘️Ticketed VIP AREA on the 3rd floor of The Museum Broken Arrow with delicious food from Russo's New York Pizzeria and Italian Kitchen Broken Arrow, beer, cash bar for those who do not care for beer/wine, 3rd do balcony overlooking the outdoor stage, desserts and acoustic artists!
☘️THE BEST PART IS THE WISH GRANTING AT 6:00pm! Make sure to make your way to the stage for Soldier's Wish to grant a wish to a deserving Veteran!! 🇺🇸❤️
🍻 To date we have 16 local breweries in the Beer Garden! Early Bird tickets are $25! That's 4 hours of unlimited tastings in this years sampling mug!!! 🍺
Get your Beer Garden tickets now before they are all gone! https://www.eventbrite.com/e/shamrock-craft-beer-garden-vip-2022-tickets-169306984749
Special thanks to our incredible 2021 sponsors:
Arrow Exterminators, Inc
Advance Alarms, Inc
Titan Title & Closing, LLC
DASON Fire & Water Restoration
Harmon Insurance
Windstream at Home
Commercial Title & Escrow
Republic Services, Inc
Jan Collins – Young Living
The Traveling Barnyard
SPONSORSHIP OPPORTUNITES:
THANKS TO OUR AWESOME SPONSORS!