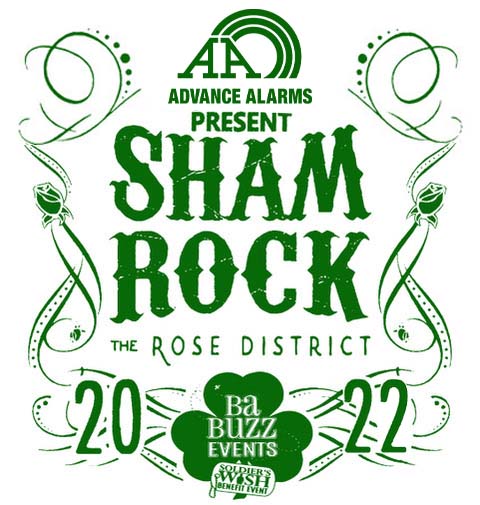 06 Dec

ShamRock the Rose 2022 – March 12th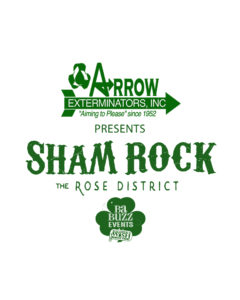 Welcome to Broken Arrow's Official St. Patrick's Day Block Party…. "ShamROCK the Rose"!
Last year's PRESENTING SPONSOR was Arrow Exterminator!
Craft Beer Garden & VIP Experience tickets!
VENDOR APPLICATION:
Join us March 12th from 5pm-10pm in the heart of Broken Arrow's Art & Entertainment hotspot… the Rose District!
🍺☘️🇺🇸DO NOT WANT TO MISS THIS Soldiers Wish Benefit Event!!! 🍺☘️🇺🇸
Find out all you need to know about BA's longest standing, FREE & open to the public, Family Friendly 👫, St Pat's Day celebration on the event fb page:
Shamrock the Rose FB invite!
and website: https://thebabuzz.com/shamrock-the-rose-2022/!!!
March 12, 2022 will be here before we know it!!! Billboards , magazine stories, radio ads, tv interviews & a gazillion fb posts will be coming you're way!!! There's NO WAY someone shouldn't hear about this event! Especially if everyone helps SHARE it! 🙏🏻👍🏼
This event is in its 8th year!!! 🙌
☘️ 3 blocks in length
☘️ FREE and open to the public
☘️ Has 12+ variety of food trucks
☘️ Almost a 100 street vendors varying from: local businesses, churches, crafters, retail boutiques to military organizations!
☘️ Has a fabulous Kids Zone brought to you by the @Broken Arrow Football booster club! The Kid Zone will have everything your child will want including a $10 all you can jump wristband, tons of games, a dunk tank and more. All proceeds go to the Booster Club! 🏈🐯
☘️ Has live music the entire event – bring your lawn chairs and enjoy!  Don't miss Oklahoma's own Dress to Kill!
☘️ Ticketed Craft Beer Garden with local breweries… Breweries can sign up here: https://forms.gle/ktTPfcgcXqhktK5Q6
☘️Ticketed VIP AREA on the 3rd floor of The Museum Broken Arrow with delicious food from local restaurants, beer, cash bar for those who do not care for beer/wine, 3rd floor balcony overlooking the outdoor stage, desserts and acoustic artists!
☘️THE BEST PART IS THE WISH GRANTING ! Make sure to make your way to the stage for Soldier's Wish to grant a wish to a deserving Veteran!! 🇺🇸❤️
🍻 To date we are gathering up local breweries in the Beer Garden! Early Bird tickets are $25! That's 4 hours of unlimited tastings in this years sampling mug!!! 🍺
Get your Beer Garden tickets now before they are all gone! https://www.eventbrite.com/e/shamrock-craft-beer-garden-vip-2022-tickets-169306984749
Special thanks to our incredible 2021 sponsors:
Arrow Exterminators, Inc
Advance Alarms, Inc
Titan Title & Closing, LLC
DASON Fire & Water Restoration
Harmon Insurance
Windstream at Home
Commercial Title & Escrow
Republic Services, Inc
Jan Collins – Young Living
The Traveling Barnyard
SPONSORSHIP OPPORTUNITES:
THANKS TO OUR AWESOME SPONSORS!